Welcome
Welcome to Carlisle House located in the historic Town of Annapolis Royal known as the Cradle of our Nation.  Built in 1868 by a French Sea Captain, Carlisle House boasts an elegance of yesteryear with the modern conveniences of a beautiful country Inn.  With nine recently renovate bedrooms each with their own ensuite, a grand dining room offering a scrumptious breakfast as well as afternoon tea.
The Inn's History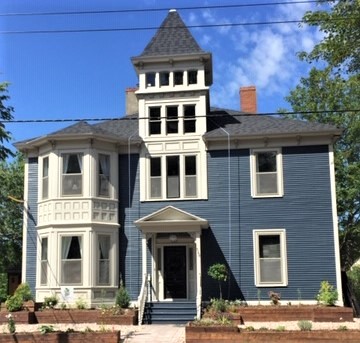 The story of the Inn starts in 1868 when Captain Barteaux emigrated to Annapolis Royal known as Port Royal from France. He built the house as a demonstration of his wealth as it boasted 18 rooms, a turret, high ceilings complemented by the birch and walnut hardwood floors; which are still beautiful today.
In 1903, Barteaux returned to France and sold the property to the Catholic Church, St. Louis which is located next door and is Canada's oldest Catholic parish. The Church made several changes to the house by reducing the number of bedrooms to 9 and razing the coach house. The original house also had a wrap around porch and second story balcony which was also demolished for a more austere looking front.
The Church owned the property until 1981 when the house was sold to a couple from Brooklyn, New York. They renovated the property adding ensuite bathrooms to all the rooms. Naming the house the King George Inn they began operations as a bed and breakfast. However over the years the house started to show its age and fell into a state of disrepair requiring a major renovation. The Inn was offered for sale in 2013.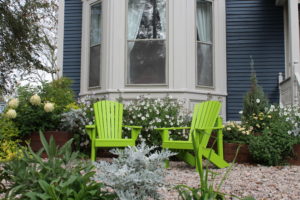 After five years on the market the house was finally sold in 2018 to Teresa Carlisle. A native Torontonian has spent the majority of her career in the hospitality industry and holds both a MBA in Hospitality and Tourism as well as Master's Degree in Economic Development and Innovation. Her industry experience has included working as a hotel manager aboard an expedition cruise line in the Antartic to owning and operating her own café and event management company. She also taught at both Centennial and Seneca Colleges in the hospitality and tourism programs and developed customer service and entrepreneurship courses which focused on experiential learning.
She fell in love with Annapolis Royal on her first visit in 2017. The History, the beautifully preserved heritage houses, the welcoming community as well as the countless tourist attractions and the endless economic development opportunities kept drawing her back to the area.  So after a spring walk in the Historic Gardens with her daughter Carolyne she decided to take the plunge and buy the King George Inn.
So, on July 12, 2018 the adventure began!