Afternoon Tea
The History of Afternoon Tea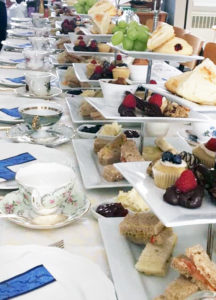 Prior to the introduction of tea into Britain, the English had two main meals breakfast and dinner. Breakfast was ale, bread and beef.  Dinner was a long, massive meal at the end of the day.  It was no wonder that Anna the Duchess of Bedford (1788-1861) experienced a "sinking feeling" in the late afternoon. Adapting the European tea service format, she invited friends to join her for an additional afternoon meal at four o'clock in her rooms at Belvoir Castle.  The menu centred around small cakes, bread and butter sandwiches, assorted sweets, and of course tea. The summer practice proved so popular, the Duchess continued it after she returned to London, sending cards to her friends to join her for "tea and a walking the fields". The practice of inviting friends to come for tea in the afternoon was quickly picked up by other hostesses.  A common pattern of service soon emerged. The first pot of tea was made in the kitchen and carried to the lady of the house who waited with her invited guests. The hostess warmed the first pot of tea with a second pot (usually silver) Food and tea was then passed amongst the guests but the main purpose of the tea was conversation.
AFTERNOON TEA AT THE CARLISLE HOUSE
All the teas were personally selected for your enjoyment and imported directly from London. Served  daily from 1:00pm to 3:00 pm in antique china cups and silver place settings in our grand dining room.
DELICACIES
Homemade scones with clotted cream and jams
A variety of tea sandwiches such as cucumber and watercress, smoked salmon, egg salad pinwheels or roasted chick pea
A selection of pastries, cakes and tarts
Fresh fruit
All of our delicacies are prepared on site using fresh local ingredients where possible and are designed to compliment our tea selections.
All served with your choice of tea
PLOUGHMAN'S LUNCH
For those who would like something a little less dainty than afternoon tea
a selection of cheese and cold meats
raw vegetables with dressing
served with freshly brewed coffee
chutney and soda bread
Tea Menu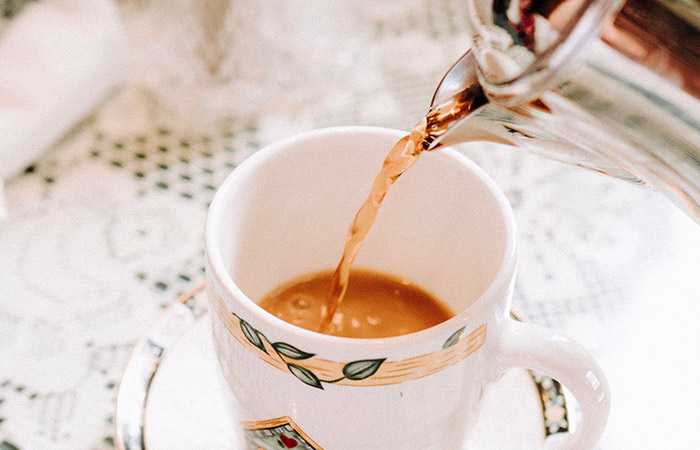 The Twinings Selection
$35.00 per person
By appointment to her Majesty Queen Elizabeth II tea and coffee merchants R. Twinnings  and Company Limited,  London   Established in 1706 by Thomas Twinning all the teas reflect over 300 years of innovation, creativity and masterblending expertise.
White Tea
Rosy Fig Flavour White Tea – A mellow white tea with a hint of rose, almond and fig. This tea is only available through visiting the Twinings Strand location London.
Yellow Tea
Huo Shan Huang Ya – A superb yellow tea with aromas of fresh orchids from the misty mountains of Anhui Province of East China.  When infused with in hot water the liquor is the palest green with a slight floral aroma and gentle, smooth, sweet flavour
First produced in the seventeenth century, in the time of the Ming and Qing Dynasties.   The succulent silvery buds are plucked early in the growing season, wrapped in parcels to mellow the tea, then dried slowly (giving rise to the distinctive colour) and are hand crafted into pointed, yellow green leaves.
Green Tea
Apple & Elderflower – Juicy apple, delicate elderflowers and light sencha green tea giving a light and refreshing taste.  Orthodox large leaf green tea which is rolled, steamed and blended with the quintessential orchard flavours.
Long Jing – This is one of China's most famous teas and deservedly so. The tea whose name translates as "Dragon Well" Grown in the west of West Lake, the ancient and renowned tea bushes thrive in the region's humid, subtropical climate.
Long Jing has a distinctive flat, jade-coloured leaves that are highly aromatic. Once infused the leaves gives a clear, pale yellow liquor with rewardingly complex character, initially sweet, followed by a slightly savoury popcorn flavour.
Black Tea
Plummy Earl Grey – This sublime tea blend is a new take on the classic Earl Grey. A light floral tea with rich juicy plum and a dash of star anise to give a little bit of spice.
Nutty Chocolate – Inspired by tea and chocolate, a match made in heaven. Rich Assam loose leaf tea is a perfect partner to the flavour of delicious chocolate and hazelnuts.  Orthodox rolled leaves produce a lighter colour liquor with tips and buds.
Elderflower & Blossom Darjeeling – Elderflower, marigolds and pink carnations produce a light, sweet Darjeeling with fragrant bursts.  Orthodox large leaf black tea, which is rolled and blended with the fragrant flavours of elderflower.
Tie Guan Yin Oolong – "Iron Goddess of Mercy"  A complex process involving different stages of plucking, withering, drying and fine rolling produces crinkly, delicate leaves of very lightly coloured oxidised tea. The liquor is a rich golden colour, the aroma sweet with hints of fruit and the flavour complex, honeyed and with caramel notes.
Caffeine Free Tea
Redbush Caramel Velvet Flavour Infusion – Naturally caffeine tree after harvesting the leaves and thin stems of the redbush plant are cut, bruised, fermented and finally dried to produce a chestnut brown, needle like infusion. A luxurious dulce de leche with a light refreshing after taste.
The Tea House Selection
$30.00 per person
Located in a tiny shop in Covent Gardens, London, the Tea House  a family run business since 1982 prides itself on supply the finest teas from around the world.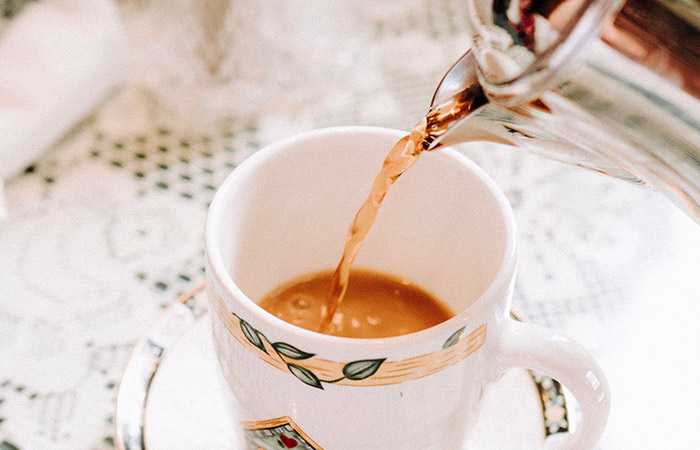 Herbal Tea
Lemon Verbena – Originating in South America, the fragrant lemon of verbena has none of the harshness of citrus fruit. Delicious and light as a tisane and popular as a digestive drink.
Fruit Blend
Kir Royale – Enliven the senses and elevate your usual tea-time with this regal fruit blend. Juicy, zesty, ripe-wild brightness of berries to lift the spirits.
Green Tea
Cupid's Arrow – Strawberries and lychee married to a delicate Sencha green tea and decorated with beautiful rose petals and jasmine flowers.
Black Tea
London Tea – A taste as sophisticated and exciting as London itself. High grown spring harvested teas from Darjeeling and Ceylon give a fresh and floral cup.
Very Spicy Chai – Some like it Hot! An intense Chai combination of black tea with a rich array of fragrant spices chosen to emphasize warmth and piquancy. Tasting India in a cup.
Heavenly – Celestial blend of luscious apricot and peach with heavenly blue mallow flowers. These fragrant flavours overlay delicate Ceylon and China black tea – irresistible.
Caffeine Free
Rooibos Cinnamon and Vanilla – Africa meets Asia in this South African Redbush infusion flavoured with exotic spices of the orient. A spicy flavour with the added sweetness of jasmine blossoms.